Join this webinar to learn how your CX is the key factor that makes or breaks it for your business during challenging times.
Date: Thursday, May 25
Time: 9 AM EDT (UTC -4) / 4 PM EEST (UTC +3)
Running time: 60 min
>> Enjoy your free recording here
When the pandemic hit, it became quickly clear that businesses that invest in Customer Experience are the ones that survive and the companies that couldn't keep up with customers' needs are shut down. Even though we have seen some great days, the truth we all know is that challenging times haven't ended. Your customer experience is what differentiates you from your competition, and helps your customer choose you in any market situation.
Is your business focusing on Customer Experience today? And are you doing it the right way?
At this webinar, our experts Pasi Brusi from Futurelab Experience and Jaakko Männistö from Feedbackly will help business leaders understand the role of CX in tough times and how to ensure visible results and ROI already in the short term.
In this webinar you will learn:
What is the primary goal for improving CX
Why is it especially important to focus on CX during challenging times
How does better CX improve company profitability
How to utilize CX data already today through modern technology
A practical case about how you can turn your customer feedback and CX data into measurable sales and growth already in short-term
>> Enjoy your free recording here
PS! No worries if you are not able to attend in real-time. Register now and we'll send a recording afterward!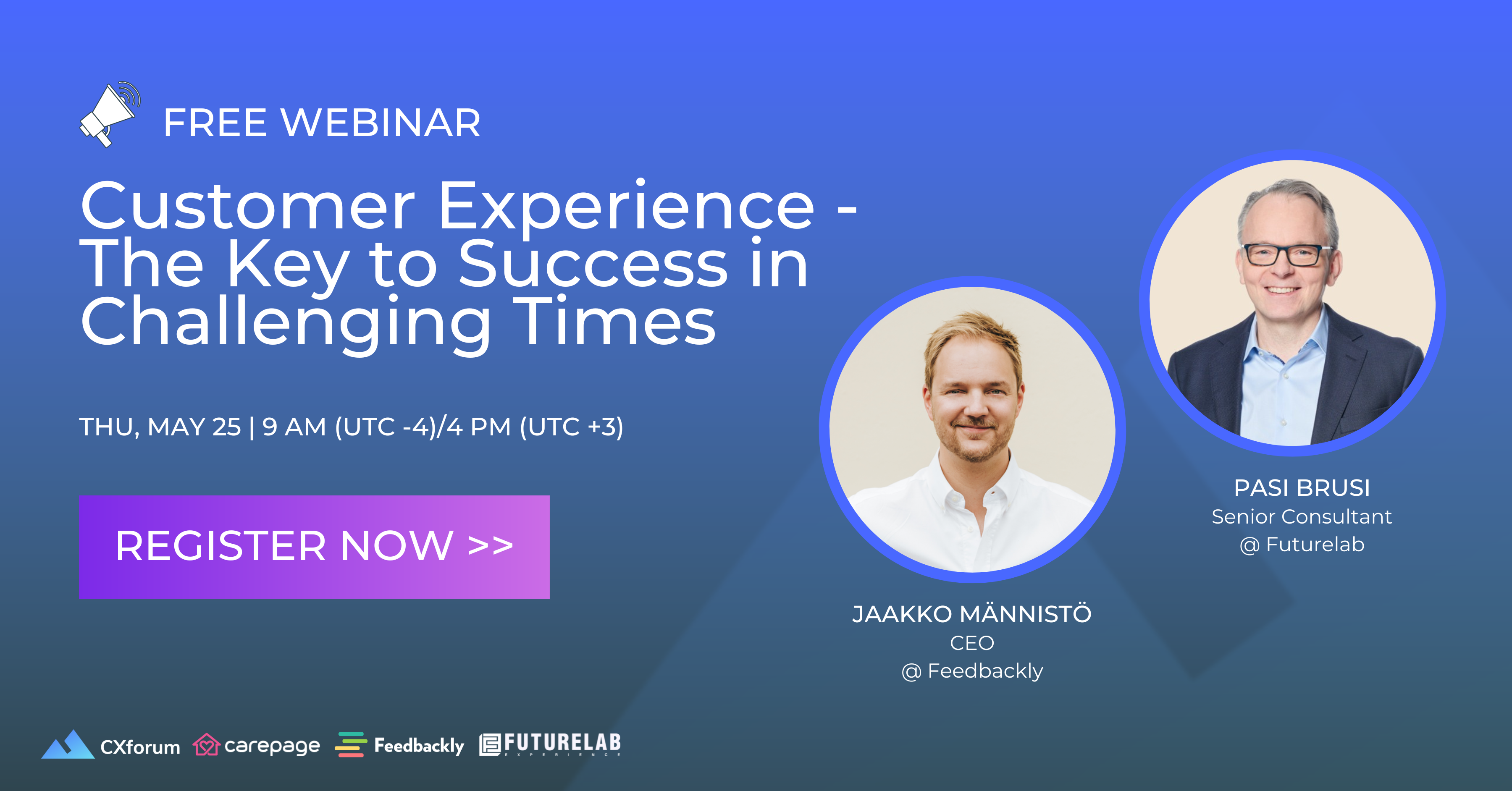 About the speakers:
PASI BRUSI
Senior Consultant at Futurelab Experience
Pasi is an associate in Futurelab Experience, which is a consultancy specializing in CX strategy development. Before Futurelab, Pasi worked in various sales & marketing, and business management roles, which gave him a good understanding of the role of each organizational function in developing the customer experience. A deep understanding of customer value management, analytics, research, marketing, and loyalty programs helps to recognize different ways to take the CX to the next level.
JAAKKO MÄNNISTÖ
Founder & CEO of Feedbackly, Awarded CX Leader, Researcher
Jaakko is a startup entrepreneur and an internationally awarded CX professional. Jaakko is a founder and CEO of Feedbackly, co-founder of CX Academy and CXforum. He also is one of the developers of the Emotional Value Index (EVI®) measurement framework and a global front-runner in Emotional Experience.
This webinar is brought to you by CXforum, Carepage, Feedbackly, and Futurelab Experience.
Download your free recording here: