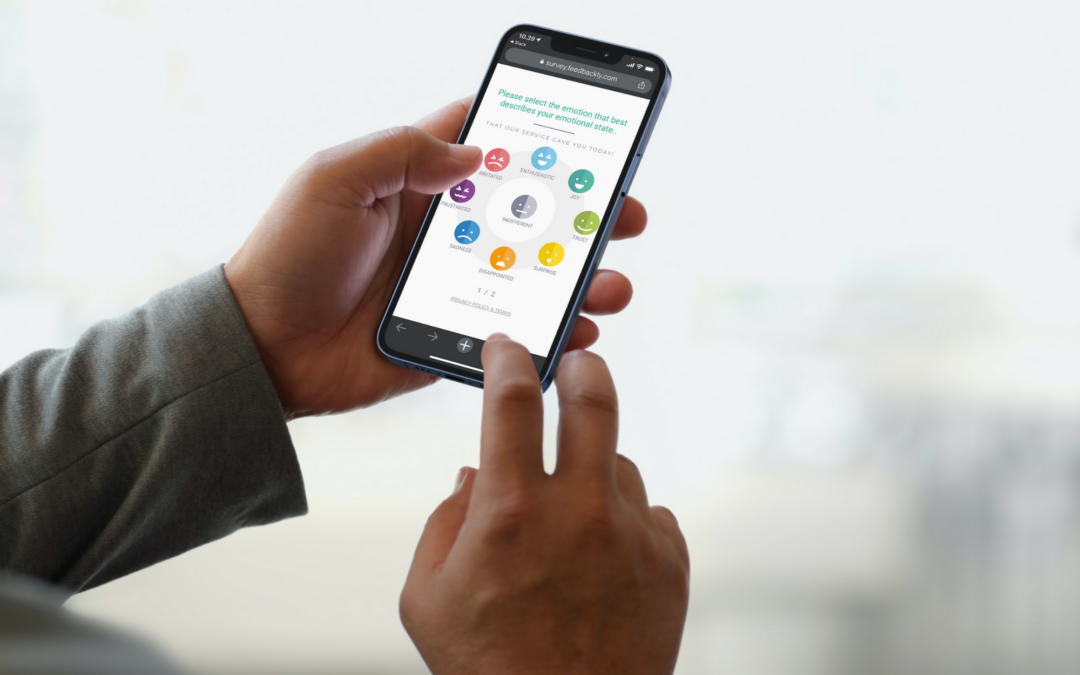 Webinaari saatavana nyt tallenteena!
>> Katso ilmainen tallenne täältä
Teknologian kehittyessä entistä nopeampaa, asiakaskokemuksesta ja sen johtamisesta on tullut tärkein pitkän aikavälin kilpailuetu, jota myös halutaan johtaa ja mitata. Sen vuoksi mittaamisesta on tullut suositumpaa kuin koskaan, eikä syyttä. Teknologian nopeassa kehityksessä vain harvat yritykset pystyvät kilpailemaan puhtaasti teknologian pohjalta ja jättämään asiakkaan huomiotta. Asiakaskokemus on uusi kilpailuetu, joka ratkaisee sen, pysytkö kilpailussa mukana vai et.
Ongelma on se, että vaikka ostokäyttäytyminen on muuttunut tunne-, kokemus- ja asiakaspolkuvetoiseksi, mittaamme asiakaskokemuksia yhä kuten 70-luvulla. Liiketoiminta ja ennen kaikkea asiakas muuttui, mutta me jäimme viime vuosituhannelle.
Jos luet tätä, olet todennäköisesti samaa mieltä.
CX Forumilla on ilo esitellä, ensimmäinen suomenkielinen webinaarimme, jossa mukana keskustelemassa kaksi tunnekokemuksen suomalaista pioneeriä, Minna Killström ja Jaakko Männistö. Käymme läpi mitä on tunnekokemus, miksi se on tärkeää juuri sinun liiketoiminnalle ja miten sitä voi johtaa ja mitata. Minnan ja Jaakon käytännönläheinen lähestyminen aiheeseen on saanut kiitosta ja vetänyt maailmalla suuria yleisöjä.
>> Katso ilmainen tallenne täältä
Tässä webinaarissa opit:
Miten ostopäätösten teko on muuttunut tunnelähtöisemmäksi
Mitä tunnekokemus on ja miksi se on tärkeää juuri sinun liiketoiminnallesi
Kuinka kerätä tietoa tunnekokemuksesta
Mitä mittareita meidän tulisi käyttää tunnekokemuksen analysointiin
Mitkä ovat tunnekokemuksen yleisimmät sudenkuopat ja miten välttää ne
>> Katso ilmainen tallenne täältä
Be there or be square: ke 24.11, klo 15.00-16.00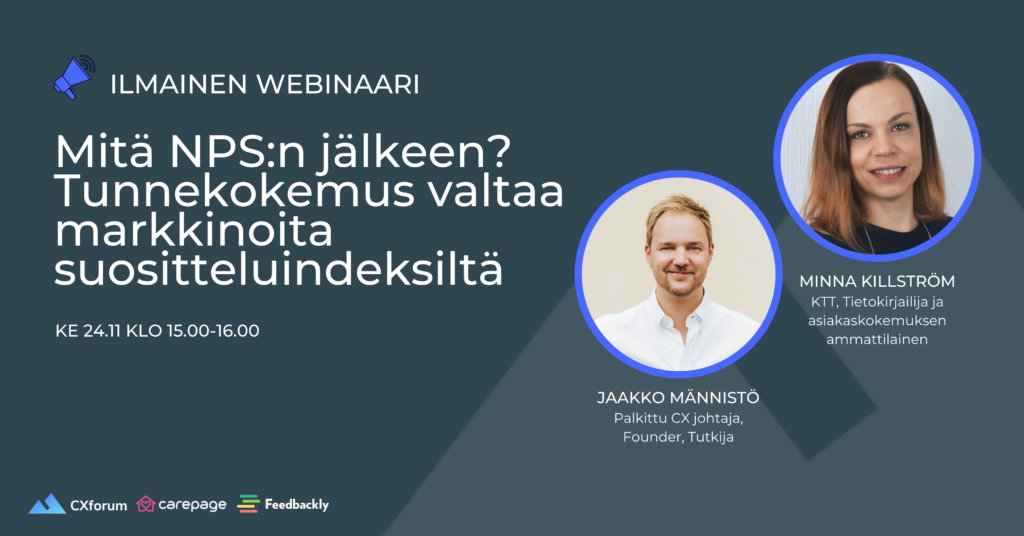 >> Katso ilmainen tallenne täältä
Puhujista:
Minna Killström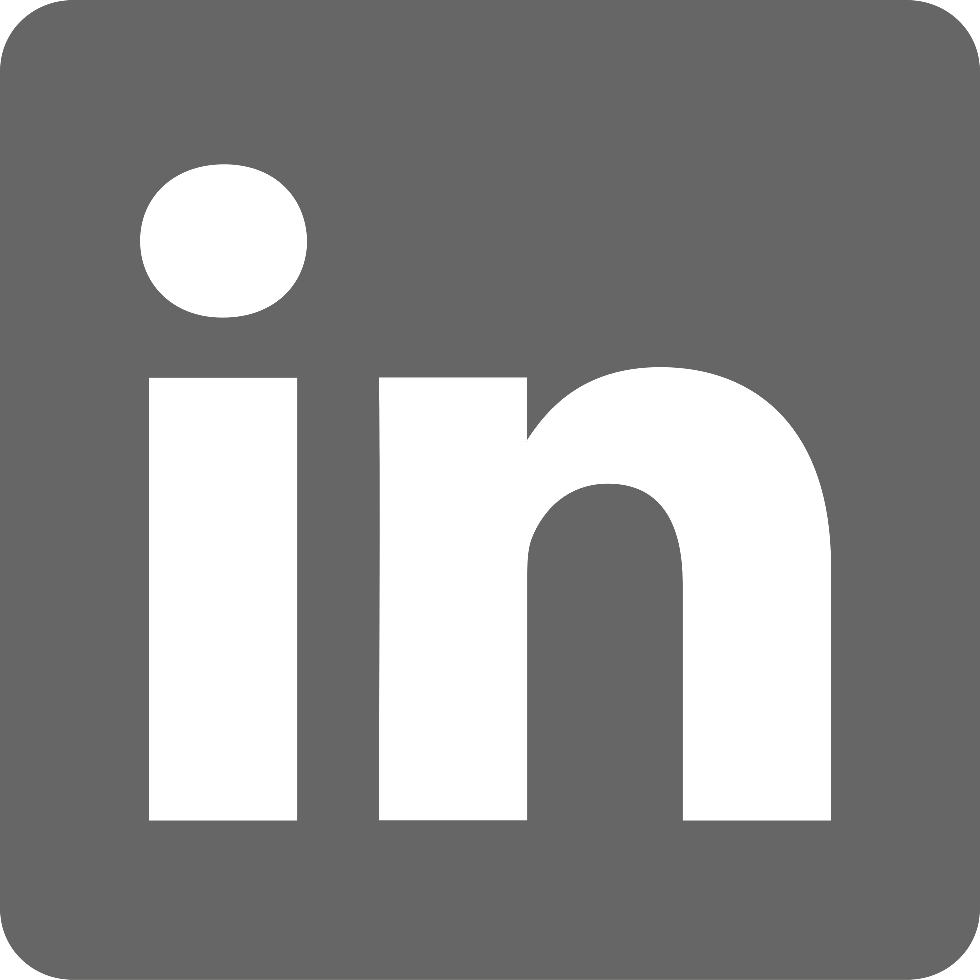 KTT, Tietokirjailija ja asiakaskokemuksen ammattilainen
Minna Killström on ihmisistä ja tunteista kiinnostunut asiakaskokemuksen kehittäjä ja asiantuntija. Hän on työskennellyt liiketoiminnan kehityksen, konsultoinnin ja markkinoinnin parissa. Minna on myös strategiaviestinnän vastaanottamisesta väitellyt kauppatieteiden tohtori.
Palkittu CX johtaja, Founder, Tutkija
Jaakko on startup-yrittäjä ja kansainvälisesti palkittu asiakaskokemuksen mittaamisen ammattilainen kasvuyhtiö Feedbacklyssä sekä Suomen suurimman yrittäjien digitaalisen yhteisön Yrittäjä.io:n perustaja. Hän on myös Emotional Value Index eli EVI® -mittariston kehittäjä ja tunnemittaamisen globaali edelläkävijä sekä yksi CX Forumin perustajista.
Tämän webinaarin järjestää CX Forum yhdessä kumppaneiden kanssa Yrittäjä.io, Carepage ja Feedbackly.
Enjoy the free replay: