Join this webinar to learn how to use marketing automation to turn your customer feedback into revenue throughout your entire customer journey
Date: Wednesday, June 1
Time: 9 AM EDT (UTC -4)/4 PM EEST (UTC +3)
Running time: 45 min
>> Enjoy your free recording here
More than ever before people are used to getting what they want now. The pace of life is getting faster and this also has an impact on how your customers behave and what they expect from you. The only way to engage with your customers at the correct time and place, and therefore provide them with a personalized Customer Experience is to use marketing automation.
At this webinar, we will open up more about how you can use marketing automation to collect as well as use your customer feedback. Nowadays, marketing automation has become an essential part of a CX infrastructure.
Save your free seat here and join us on June 1st to learn how to do it the right way!
>> Enjoy your free recording here
In this webinar you will learn:
Why and how to use marketing automation as part of your CX infrastructure
How to use marketing automation to drive business and engage your customers throughout the customer journey
How to automate the measurement of the entire customer journey
Practical examples of how to utilize customer experience data at different points of the customer journey to maximize profits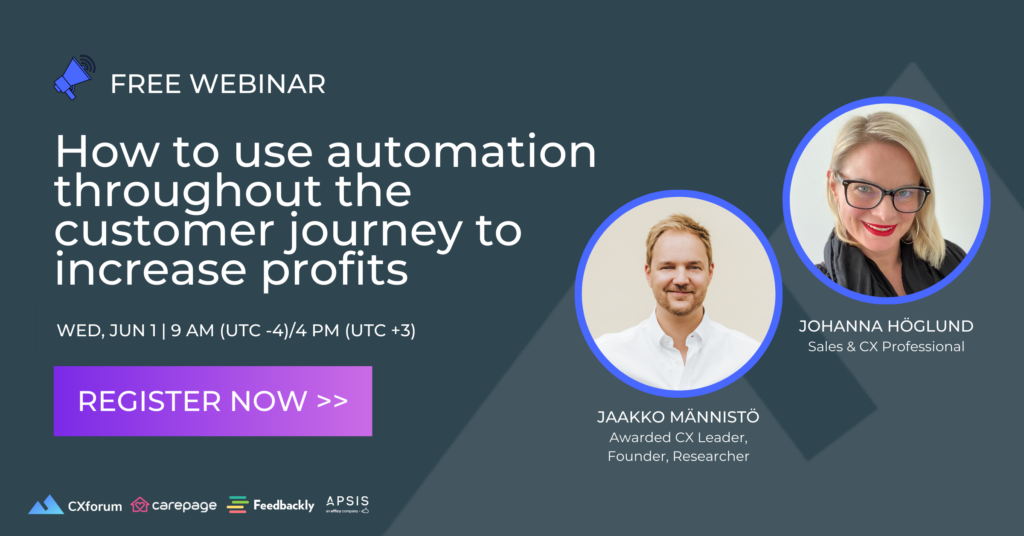 PS! No worries if you are not able to attend in real-time. Register now and we'll send a recording afterward!
About the speakers:
JOHANNA HÖGLUND
Sales and CX Professional, Regional Sales Director @ APSIS
Johanna is a sales professional with a passion for people and customer success enablement. She has long experience in sales, customer success management, and business development in various industries from logistics to network marketing and pharmaceuticals, and the past decade working with sales in different positions within the digital marketing software industry.
JAAKKO MÄNNISTÖ
Awarded CX leader, Founder, Researcher, CEO @ Feedbackly
Jaakko is a startup entrepreneur and an internationally awarded CX professional. Jaakko is a founder and CEO of Feedbackly, co-founder of CX Academy and CXforum, and the author of the CX handbook The Journey. He also is one of the developers of the Emotional Value Index (EVI®) measurement framework and a global front-runner in Emotional Experience.
This webinar is brought to you by CXforum, Carepage, Feedbackly, and APSIS.
Enjoy the free replay: