Recording now available!
>> Enjoy your free recording here
During the COVID-19 pandemic, Customer Experience (CX) and Employee Experience (EX) have risen to the forefront of many businesses. Experience is what matters, and what makes your customers, as well as employees, stay loyal to your business. But how to integrate CX and EX successfully to grow your business?
Too often businesses run surveys just to measure their customers' experience across key service areas of their organization, but they forget that their employees are the eyes and ears of their organization. Just like they survey clients and their loved ones together to map themes or perception gaps, they often forget how important it can be to hear from employees about their experience and observations of the client experience and where they feel improvements can be made to enhance service design and the overall customer experience. Are you measuring EX and CX combined to deliver an enhanced customer experience?
We know it is difficult, and this is why we put together this webinar with the CX and EX experts in healthcare.
Join us on February 23rd to learn about one of the most important topics in healthcare today: how to deliver and measure an integrated CX and EX strategy in healthcare.
>> Enjoy your free recording here
In this webinar you will learn:
How does Employee Experience (EX) impact Customer Experience (CX)
Methods of delivering and measuring an integrated CX and EX strategy in healthcare
Technologies for enhanced EX and CX experiences – a case study
Date: Wednesday, February 23rd
Time: 9 AM EET (UTC +2)/ 6 PM AEDT (UTC +11)
Running time: 45 min
PS! No worries if you are not able to attend in real-time. Register now and we'll send a recording afterward!
>> Enjoy your free recording here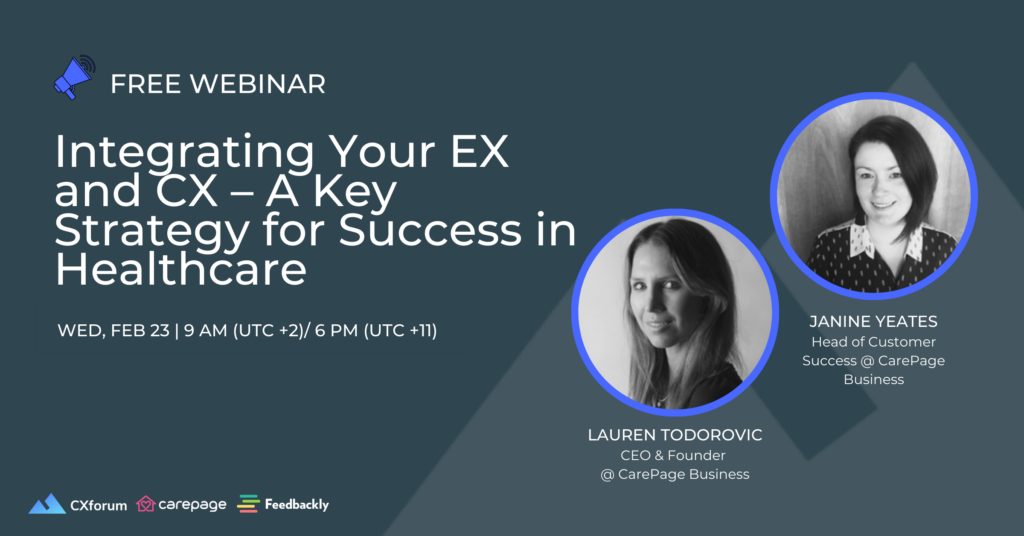 >> Enjoy your free recording here
About the speakers:
LAUREN TODOROVIC
CEO & Founder of CarePage Business
Lauren has worked in the healthcare industry for over 15 years from clinical to senior managerial roles across acute, palliative care and aged care services.
Lauren has established CarePage to drive improved quality of care for the elderly through data collection and analytics tools in the aged care and retirement village sector. She founded Aged Care Report Card Pty Ltd back in 2014 that was the genesis of the innovation that is shaping the market today.
JANINE YEATES
Head of Customer Success at CarePage Business
With over 10 years of experience in aged care, Janine has worked both in-house and agency side to deliver research, strategy, brand, marketing, and communications.
Driven to design and develop solutions to better improve outcomes for both older people and businesses operating in the sector, Janine maintains a deep understanding of sector reform and intra-dynamics and is constantly exploring the latest innovation in models for care and services globally.
This webinar is brought to you by CXforum, Carepage and Feedbackly.
Enjoy the free replay here: