Join this webinar with Uber and CXforum to learn how to provide the best experiences across the entire customer journey
Date: Thursday, January 26
Time: 9 AM EST (UTC -5)/, 4 PM EET (UTC +2)
Running time: 60 min
>> Enjoy your free recording here
Customer Experience has become a buzzword for marketing teams. Experience matters, but how do marketing teams impact and create experiences? We'll talk about this and many other current topics with Marco Ferrara, Marketing Manager of UBER.
In this cozy fireside chat, we'll discuss how to use the customer journey approach and how UBER is doing it. We'll show practical examples of how UBER actually puts theoretical information into practice to create better experiences. And how you can do it, too!
Welcome to learn from UBER, the world's largest ride-sharing company!
In this webinar you will learn:
How marketing teams impact Customer Experience
How to use the customer journey approach in marketing
How to use customer journey templates and turn them into impactful actions
Practical examples of how UBER is using the customer journey approach
>> Enjoy your free recording here
PS! No worries if you are not able to attend in real time. Register now and we'll send a recording afterward!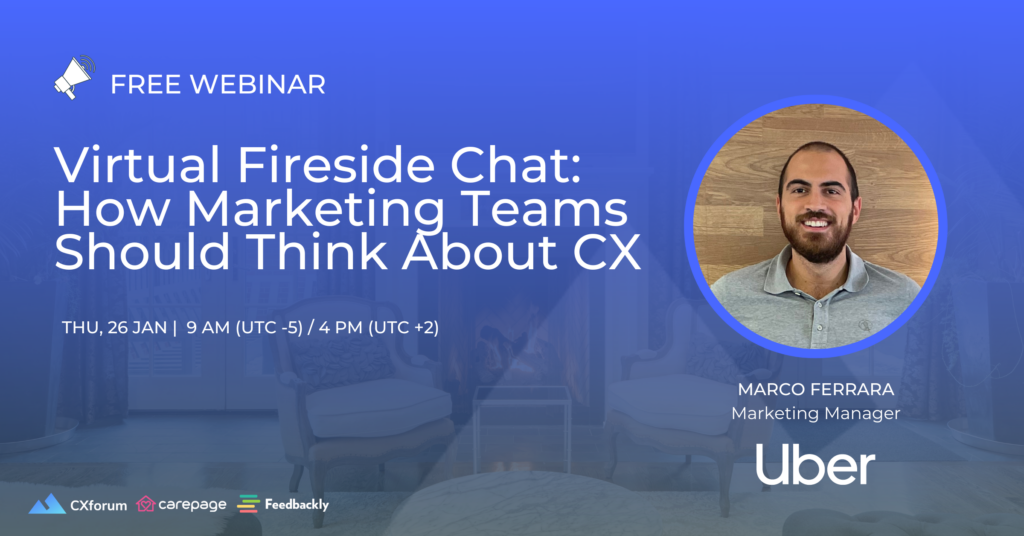 About the speakers:
MARCO FERRARA
Marketing Manager @ Uber
Engineer at heart, Marco Ferrara has always been a firm believer in adding value through analytical and data-driven Brand Marketing. His almost 10y career has started in FMCG – from food to chemicals – and has led him into the tech world, at Uber, where he has brought the same mentality of only bringing to life measurable initiatives that have an impact.
Currently leading the SCEE region, he has helped reshape the Travel Media Strategy to better fit with the real rider journey experience. He has also launched the first Brand Marketing campaigns on both Mobility and Delivery in Italy.
EVELY KAASIKU
Head of community @ CXforum, CMO @ Feedbackly,
Evely is a full-stack marketing professional who has always been interested in human psychology and its impact on decision-making. She has almost 10 years of experience in marketing, which includes various experience at B2C as well as B2B. During her career, she has even led her own startup with a goal to change the world of customer feedback collection – Customer Experience has always been in her heart. Today, she is CMO at Feedbackly, the only CX platform that provides an all-in-one solution for measuring customer emotions.
This webinar is brought to you by CXforum, Carepage, Feedbackly and Uber.
Download your free recording here: