Recording now available!
>> Enjoy the recording of the webinar here
Medir la experiencia del cliente siempre ha sido importante, el contexto actual ha hecho que sea indispensable. Solo unas pocas compañías o marcas pueden diferenciarse e ignorar al cliente y no entender que la experiencia al cliente sea una ventaja competitiva.
Probablemente esté de acuerdo y a la vez sepa que la recopilación de datos (CX) y la capitalización de estos, son clave para su negocio, aunque el reto reside en identificar las acciones que deben implementarse … aunque no están siempre tan claras.
Feedbackly junto con el CX Forum ha desarrollado una métrica (completamente nueva) de medición de la experiencia emocional. Este nuevo marco toma en consideración la gran variedad de emociones y cómo estas emociones impactan en los resultados de su negocio. Estaremos encantados de compartir con usted los datos y detalles más relevantes durante nuestro webinar
Participe en nuestro Webinar el el próximo 27 de Mayo, para encontrar las respuestas a algunas preguntas clave sobre cómo las emociones impactan en los resultados de su negocio y cómo puede utilizarlas para hacer crecer su negocio.
El seminario web se lo ofrecen Feedbackly y ShowCx
>> Enjoy the recording of the webinar here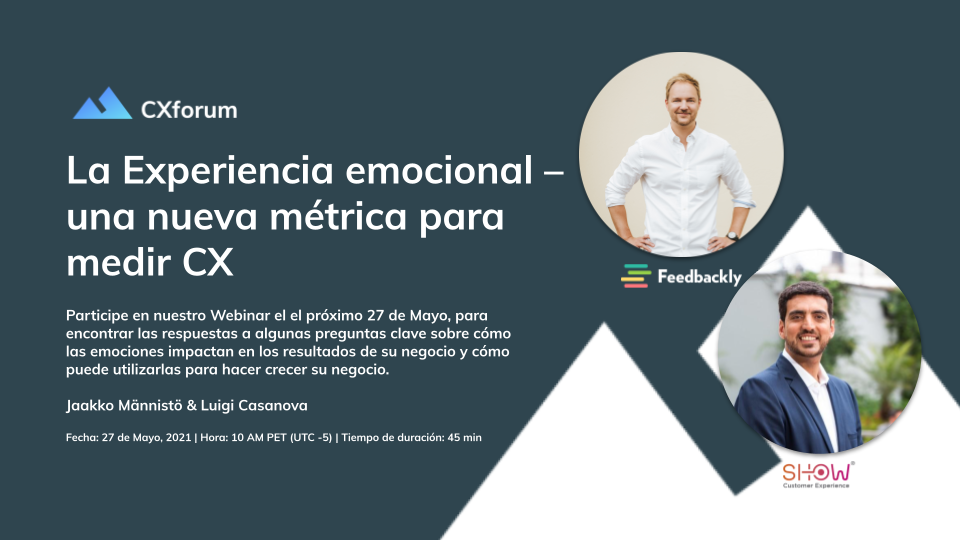 Durante este webinar se hablará de los siguientes aspectos:
¿Qué es la experiencia emocional y por qué es importante?
¿Cómo recopilar datos sobre la experiencia emocional?
¿Qué KPIs se deberían aplicar para analizar la Experiencia Emocional?
¿Qué se debe tener en cuenta a la hora de analizar los datos de CX?
¿Cuáles son los errores más comunes que se deben evitar?
Fecha: 27 de Mayo, 2021
Hora: 10 AM PET (UTC -5)
Tiempo de duración: 45 min
PS! No se preocupe si no puede asistir. Regístrese ahora y tendrá acceso a la grabación, a posteriori.
>> Enjoy the recording of the webinar here
Sobre Jaakko Männistö
Jaakko es un apasionado profesional del CX, uno de los creadores del EVI® Emotional Value IndexTM es fundador y director ejecutivo de Feedbackly, cofundador de CX Forum y de la CX Academy y autor del manual de CX The Journey. A la vez que investigador en el área del uso de herramientas de inteligencia artificial con aplicación en el área de la experiencia al cliente. Jaakko ha sido incluido en la lista "CX Rising star" de Forbes 30 Under 30
Sobre Luigi Casanova
Luigi Casanova además de ser un emprendedor con una dilatada y exitosa experiencia en el campo CX, es un referente en el mercado Peruano, a través de su consultora especializada: Show CX, a través de la cual dan soporte a clientes (de sectores diversos) en el diseño o re-diseño y/o desarrollo de experiencias que mejoren la calidad de vida y estados de ánimo de las personas; haciendo negocios más plurales y rentables para sus clientes. Además cuenta con una dilatada carrera en la docencia, por ejemplo dirigiendo el Programas de Especialización en Customer Experience Management de la Universidad Peruana de Ciencias Aplicadas (edited)
www.showcx.com – https://linkedin.com/in/luigidelperu