Hear from one of Australia's most trusted Healthcare advisors about the power of Purpose in Customer Experience.
Date: September 28
Time: 4 pm AEST (UTC +10) / 9 am EEST (UTC +3)
Running time: 45 min
Can't join in real time? No worries, all the registrants will receive a recording.
Do you truly understand what your customers, patients, residents, or clients really want in their experiences? Are you struggling with your mission statement, values, and principles to lead your organisation into a new phase of growth or stability?
If you're eager to explore the transformative power of Purpose in the realm of customer and patient experiences, don't miss our upcoming webinar.
Join us on September 28th for an engaging webinar with Alan Forbes, the CEO of Patient Experience Group and one of Australia's most trusted advisors to senior Healthcare executives. Alan will explore the important role of Purpose throughout the customer experience journey, using the patient experience as an example.
In this webinar, Alan will detail the common pitfalls and misconceptions surrounding patient expectations and unpack some challenges that have trapped various businesses in substandard experience delivery.
In this webinar you will learn:
How to redefine your own organisations' purpose to focus on patient experiences
Why changing mindsets around how we understand and explore patient experiences is critical
What to consider when you are developing strategies for change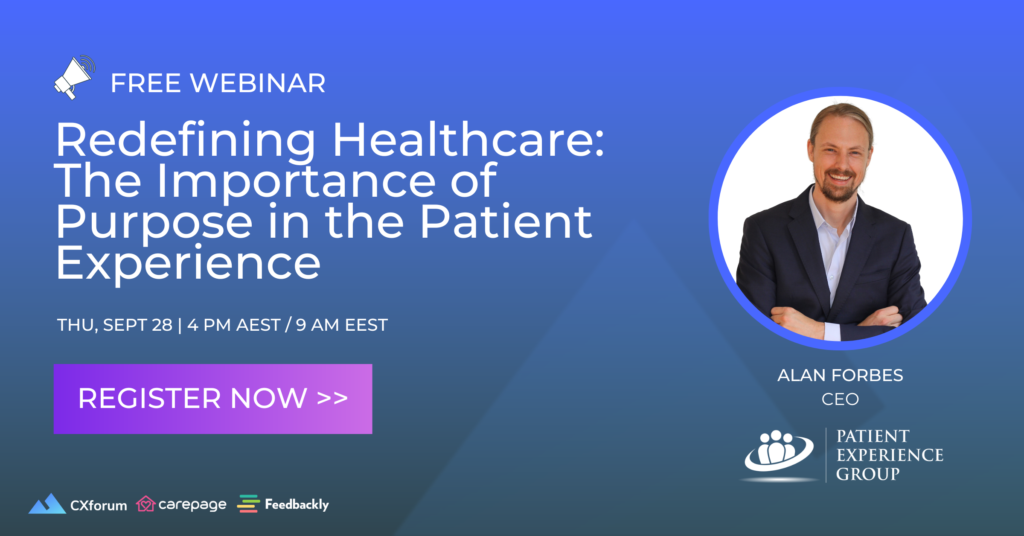 About the speaker:
Alan Forbes
CEO of Patient Experience Group
As a thought leader in the healthcare industry, Alan shares expertise and insights with audiences worldwide, inspiring and guiding them to break through siloed thinking and foster an all-inclusive approach that prioritises the patient. As CEO of Patient Experience Group, he has worked with healthcare organisations of all different shapes, sizes, and specialties; from aged care to large hospitals and even private practice, delivering innovative solutions and positive change. In his book, "The Patient Experience," he offers practical strategies and actionable steps to enhance patient satisfaction and organisational success. His mission is to empower forward-thinking executives to provide the best possible experience for their patients and staff and ensure the utmost confidence in their organisation.
This webinar is brought to you by CXforum, Carepage, Patient Experience Group, and Feedbackly.
Save your free seat here: